Flying H Construction is a small yet experienced excavating company started in 1993. We currently maintain a fleet of some top notch and unique equipment and skilled, long-term employees as operators.  Having worked very close with the SW city suburbs, we have formed relationships and know what is expected to get the job done. We are good at municipal projects and look forward to working with you on yours.
We are a broad spectrum supplier of excavating services. Because we like what we do, we are looking for ways to improve and expand our services. We are small and we keep our overhead low, our prices are very competitive, and we look out for our customers' interests. It's your money, but we spend it like its ours when working on your project.
We know that communication is key in the construction industry. One call will put you directly in touch with the person in charge of your project for prompt answers and decisions.
From failed septic systems, house drainage issues, ponds, landscaping, rock walls, subdivisions, mainlines and demolition, half or full street improvements… big or small, jobs always receive the same personalized touch from all the employees at Flying H.
Our goal is to take each job as if it were our own, remain small and personable and not be afraid to try something new and different to make sure every customer is satisfied.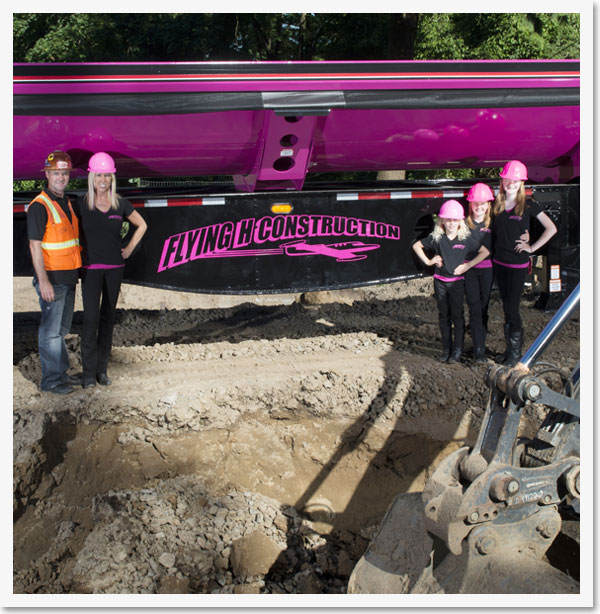 Flying H Construction is a family business. Our core values place a large emphasis on our family, as well as our employees families, and we support opportunity for our children and employees children. We also place a huge emphasis on safety, and exceed OSHA's safety standards. We're proud of this!
We also care about our community. We do what we can to make a difference around us.
"Because of your generous support, Haven House is an affordable place for young single mothers to live and care for their children while they stabilize their lives. In most cases, they have no where else to turn for help. Your participation in this program, along with so many other community partners, is a testament to the great things that can happen with the generous hands of many come together. Thank you for your loving gift to these young women and children."
– Dennis Keenan, MSW
Catholic Communities